Let's create something simple and meaningless just for the sake of learning.
Goal: Create a Gutenberg plugin which registers a global shortcut – Ctrl + R that changes the color of all text on the page to red.
Create a React Component that returns null
const

 MakeTextRedshortcut = 

()

 => {
    

return

 

null

;


}


Code language:

 

JavaScript

 

(

javascript

)
This component will later hold the logic for registering the shortcut, as well as using it. It returns null because we don't want anything to render on the page.
Register a Gutenberg plugin
import

 { registerPlugin } 

from

 

'@wordpress/plugins'

;





const

 MakeTextRedshortcut = 

()

 => {
    

return

 

null

;


}





registerPlugin(


    

'global-text-color-change-plugin'

,


    {


        

render

: MakeTextRedshortcut


    }


);


Code language:

 

JavaScript

 

(

javascript

)
We've named our plugin global-text-color-change-plugin, you can name it whatever you want as long as the name doesn't clash with an already registered plugin.
The plugin will render the MakeTextRedshortcut component.
Register the shortcut
import

 { registerPlugin } 

from

 

'@wordpress/plugins'

;


import

 { useDispatch } 

from

 

"@wordpress/data"

;





const

 MakeTextRedshortcut = 

()

 => {
    

const

 { registerShortcut } = useDispatch( 

'core/keyboard-shortcuts'

 );





    registerShortcut( {


        

name

: 

'change-global-text-color-to-red-shortcut'

,
        

category

: 

'global'

,
        

description

: 

'Turns the color of all text on the screen to red'

,
        

keyCombination

: {
            

modifier

: 

'ctrl'

,
            

character

: 

'r'

,


        },


    } );





    

return

 

null

;


}





registerPlugin(


    

'global-text-color-change-plugin'

,


    {


        

render

: MakeTextRedshortcut


    }


);


Code language:

 

JavaScript

 

(

javascript

)
A shortcut is registered using the registerShortcut method which takes an object with the following fields:
name: This is the unique name given to the shortcut. You can name it anything you want as long as a shortcut isn't already registered with the same name.
category: When we open Keyboard Shortcuts, our shortcut will be added under the Global shortcuts section. (See the image below)
description: A text to describe what the shortcut does.
keyCombination: Defines keys to be used for the shortcut sequence.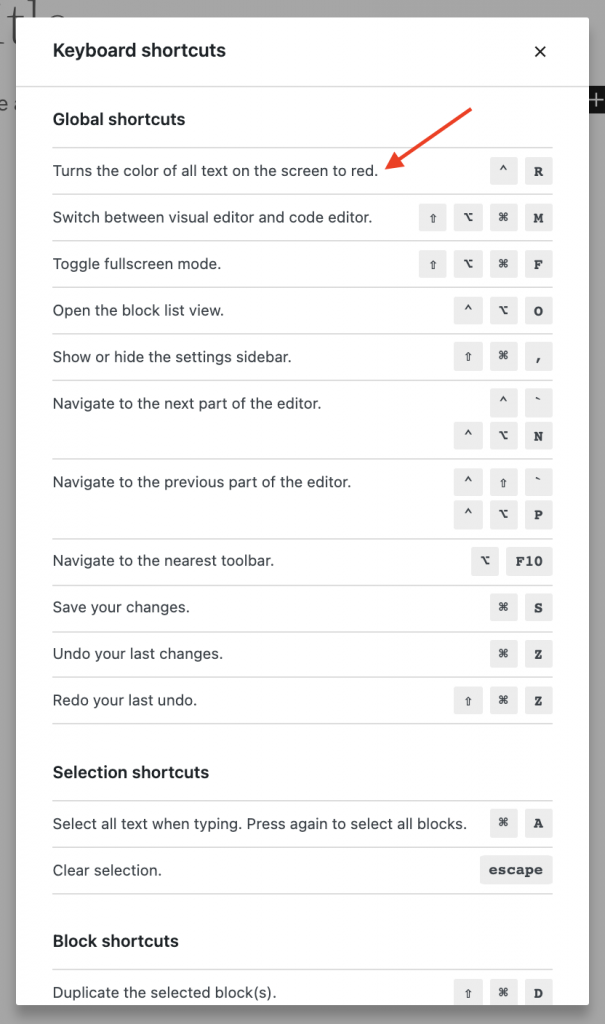 Define the functionality of the shortcut
We have registered the shortcut Ctrl + R but we haven't yet told Gutenberg what it does. To do this, we use Gutenberg's React hook useShortcut()
import

 { registerPlugin } 

from

 

'@wordpress/plugins'

;


import

 { useDispatch } 

from

 

"@wordpress/data"

;


import

 { useShortcut } 

from

 

'@wordpress/keyboard-shortcuts'

;





const

 MakeTextRedshortcut = 

()

 => {
    

const

 { registerShortcut } = useDispatch( 

'core/keyboard-shortcuts'

 );





    registerShortcut( {


        

name

: 

'change-global-text-color-to-red-shortcut'

,
        

category

: 

'global'

,
        

description

: 

'Turns the color of all text on the screen to red'

,
        

keyCombination

: {
            

modifier

: 

'ctrl'

,
            

character

: 

'r'

,


        },


    } );





    useShortcut(


        

'change-global-text-color-to-red-shortcut'

, 

// name of our shortcut.




        () => {


            

// This function will run when Ctrl + R will be pressed.


            jQuery( 

'*'

 ).css( 

'color'

, 

'red'

 );


        }


    );





    

return

 

null

;


}





registerPlugin(


    

'global-text-color-change-plugin'

,


    {


        

render

: MakeTextRedshortcut


    }


);


Code language:

 

JavaScript

 

(

javascript

)
---
Can we optimize the performance a little bit?
Yes. We can memoize the callback for useShortcode since the functionality is same throughout the lifecycle.
import

 { registerPlugin } 

from

 

'@wordpress/plugins'

;


import

 { useDispatch } 

from

 

"@wordpress/data"

;


import

 { useShortcut } 

from

 

'@wordpress/keyboard-shortcuts'

;


import

 { useCallback } 

from

 

'@wordpress/element'

;





const

 MakeTextRedshortcut = 

()

 => {
    

const

 { registerShortcut } = useDispatch( 

'core/keyboard-shortcuts'

 );





    registerShortcut( {


        

name

: 

'change-global-text-color-to-red-shortcut'

,
        

category

: 

'global'

,
        

description

: 

'Turns the color of all text on the screen to red'

,
        

keyCombination

: {
            

modifier

: 

'ctrl'

,
            

character

: 

'r'

,


        },


    } );





    useShortcut(


        

'change-global-text-color-to-red-shortcut'

, 

// name of our shortcut.


        useCallback( 

()

 => {
            

// This function will run when Ctrl + R will be pressed.


            jQuery( 

'*'

 ).css( 

'color'

, 

'red'

 );


        }, [] )


    );





    

return

 

null

;


}





registerPlugin(


    

'global-text-color-change-plugin'

,


    {


        

render

: MakeTextRedshortcut


    }


);


Code language:

 

JavaScript

 

(

javascript

)
Ctrl + R shortcut in action